Symbiosis is the intimate relationship of different organisms living and evolving in harmony within an ecosystem for the benefit of each other.
Fermented food provides both the environment and the microbes to create a healthy ecosystem.
Fermented food is a Symbiotic.
That is why we call our Your Flora® series Symbiotics, because they are fermented whole food supplements made from a diverse living culture. This living culture fermentation process is called Symbio® with includes two different mediums that both contain diverse microorganisms within each and together create a perfect living harmonious relationship. These mediums include diverse microorganisms from water-based kefir grains and from a caffeine-free kombucha scoby in a small-batch fermentation with certified organic whole foods; all together creating a dynamic and beneficial ecosystem. This traditional and natural fermentation process allows whole foods to be enhanced, bio-activated, highly absorbable, and energetic nutritional complexes to come alive and the body can intuitively recognizes and utilizes to maximum, therapeutic effect.
Giving you the Your Flora® Symbiotic series, the next generation of probiotics, a fermented diverse strain Symbiotic. It's a complete digestive solution, an all-in-one capsule including probiotics, prebiotics, enzymes, and nutrients to deliver a healthy gut ecosystem. 
No refrigeration needed. 100% of the ingredients are all natural, USDA Certified Organic, Non-GMO Project Verified, gluten and dairy free. Living Alchemy always provides clean supplementation with no additives, fillers and nothing unnatural.
Your Flora® Symbiotic's include: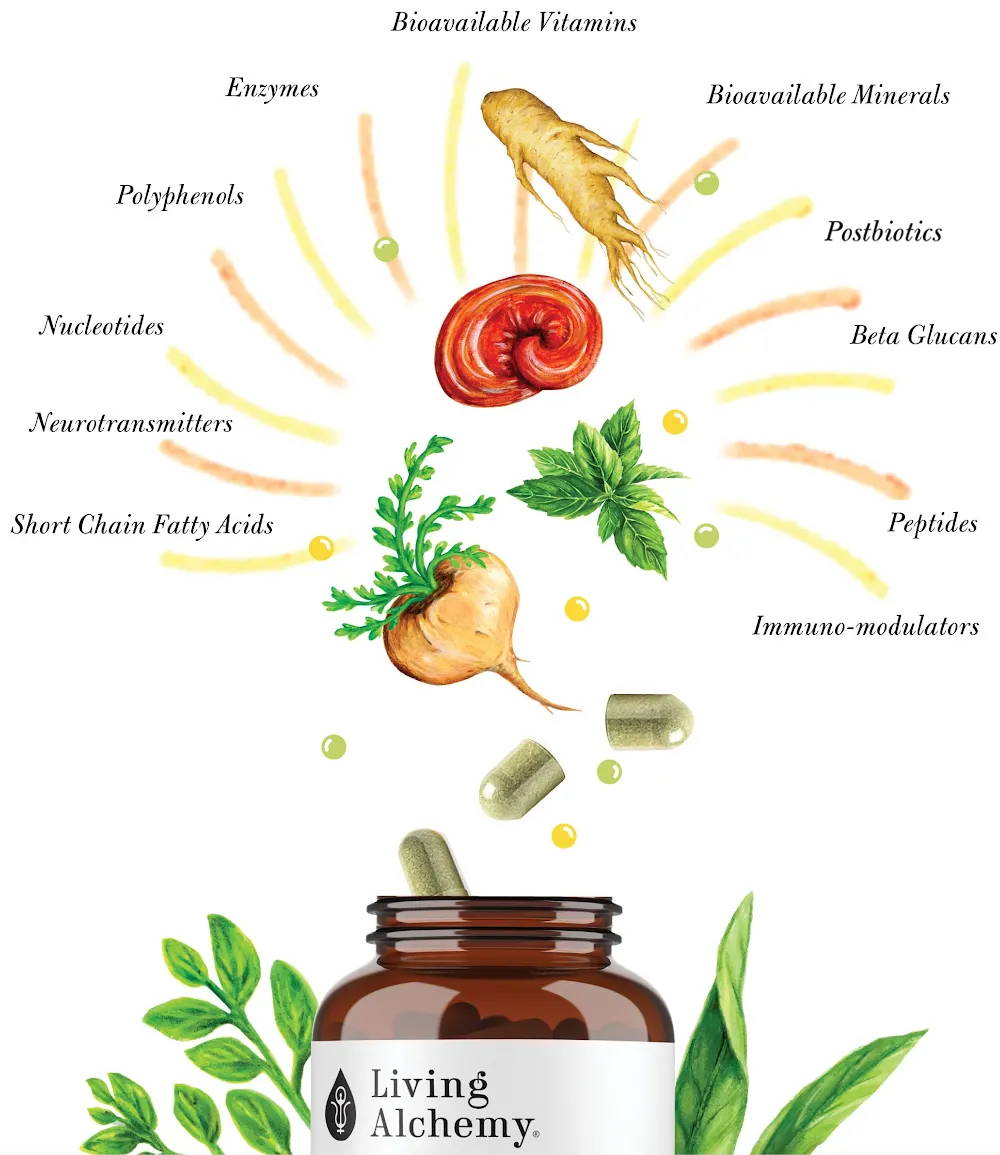 How are Your Flora® Symbiotics different then Probiotics?
More CFU is not the key to a healthy gut, the environment is! 
Living Alchemy's Your Flora® Symbiotic are designed to enhance your own gut flora, it is food for your microbes to thrive. The Your Flora® series are the only plant based Symbiotic available that are 100% natural and made from certified organic whole foods. The majority of conventional probiotics on the shelves are laboratory made and cannot be certified organic. They are man-made microorganisms grown to dictate your flora, achieve CFU numbers and may not include a diverse amount of beneficial microbes, enzymes, peptides and nutrients for your own gut flora to thrive.  See some of the differences below and to learn more about Living Alchemy's unique and effective ingredients and approach see the Advantages here.
Which one do I choose?
There is one Your Flora® Symbiotic for everyone, or sometimes two – they are great to mix and match as they work well together too! You choose which one is for you based on your digestive constitution or your #gutgoals! If your main digestive complaint is gas and bloating choose Your Flora® COMFORT, if it's a leaky gut choose Your Flora® TERRAIN or for vaginal flora and urinary tract balance try Your Flora® WOMAN. To find out which one is right for you, let our Living Alchemist help by taking our gut complaints quiz here.
This is for informational purposes only and is not intended as a substitute for the advice of a healthcare professional. Therefore, it should not be used to diagnose or treat any health care problem or for prescription of any medication.